H 150 – Thermographic camera for the paramedics
Thermography is a non-contact and non-invasive user-friendly process to detect invisible inconsistencies under the skin. But it is hardly used in the medical world. The problem is that infrared cameras can only give a pre-diagnosis. Ultrasound images or CT scans deliver a clearer and legally approved diagnosis.
The goal was to review the current limitations and application areas to understand why thermography is not used more often in the healthcare sector. Broad research and interviews with specialists and experts from various medical fields gave clarification. Legal conditions, lack of awareness for this promising technology and availability of adapted products are few reasons to name.
In hospitals or medical practices expensive equipment is already available to detect inconsistencies with a precise diagnosis. But when time is short and large instruments aren´t available the need for a tool to get a quick diagnosis and overview of a patient is priceless. Then thermography can provide a market need for the healthcare sector which will be a good starting point for Flir´s extended product portfolio.
»FLIR is the world's largest commercial company
of thermal imaging cameras«
FLIR Systems, designs, develops, manufactures, markets, and distributes technologies that enhance perception and awareness. We bring innovative sensing solutions into daily life through our thermal imaging systems, visible-light imaging systems, locator systems, measurement and diagnostic systems, and advanced threat detection systems. Our products improve the way people interact with the world around them, enhance public safety and well-being, increase energy efficiency, and enable healthy and entertained communities.
The company was established in 1978 and started with high performance, low-cost infrared imaging systems for airborne applications. Later they introduced handheld systems for commercial applications to detect and measure temperature differences. Due to high demand and the opportunities this technology offers they invented a wide range of products and cut the costs. Today FLIR is able to provide tools for a volume market which makes them the market leaders and operates in many locations around the globe.

Normally, our vision is limited to a very small portion of the electromagnetic spectrum. Thermal energy has a much longer wavelength than visible light. So long, in fact, that the human eye can't even see it, just like we can't see radio waves. With thermal imaging, the portion of the spectrum we perceive is dramatically expanded, helping us "see" and "measure" thermal energy emitted from an object. An infrared camera is a non-contact device that detects infrared energy (heat) and converts it into an electronic signal, which is then processed to produce a thermal image or video, on which you can perform temperature calculations.
— Why has thermography not been successful in the medical world?
Thermography is a non-contact and non-invasive screening to detect invisible inconsistencies under the skin. But it is hardly used in the medical world today. "There is no valid scientific data to demonstrate that thermography devices are an effective screening tool for any medical condition. Taking X-ray pictures of the body is the most effective screening method today for example breast cancer." Researchers are developing and testing new versions of thermography that someday may improve the test's accuracy and usefulness. But they are using products for their research which are designed for different application scenarios. 
Is it not time that a provider is supporting medical studies to adapt their products early on to their specific needs? Especially this technology would be a good method for early detection of irregularities around the body. It is a fast, cheap and non-contact/non-invasive method that can improve the user experience of unpopular screenings like Mammography. First legal conditions need to be updated and more awareness will be essential to drive this promising technology further. Overall, thermography needs another promising use case to start the conversation in a bigger scale. 
— Possibilities of infrared waves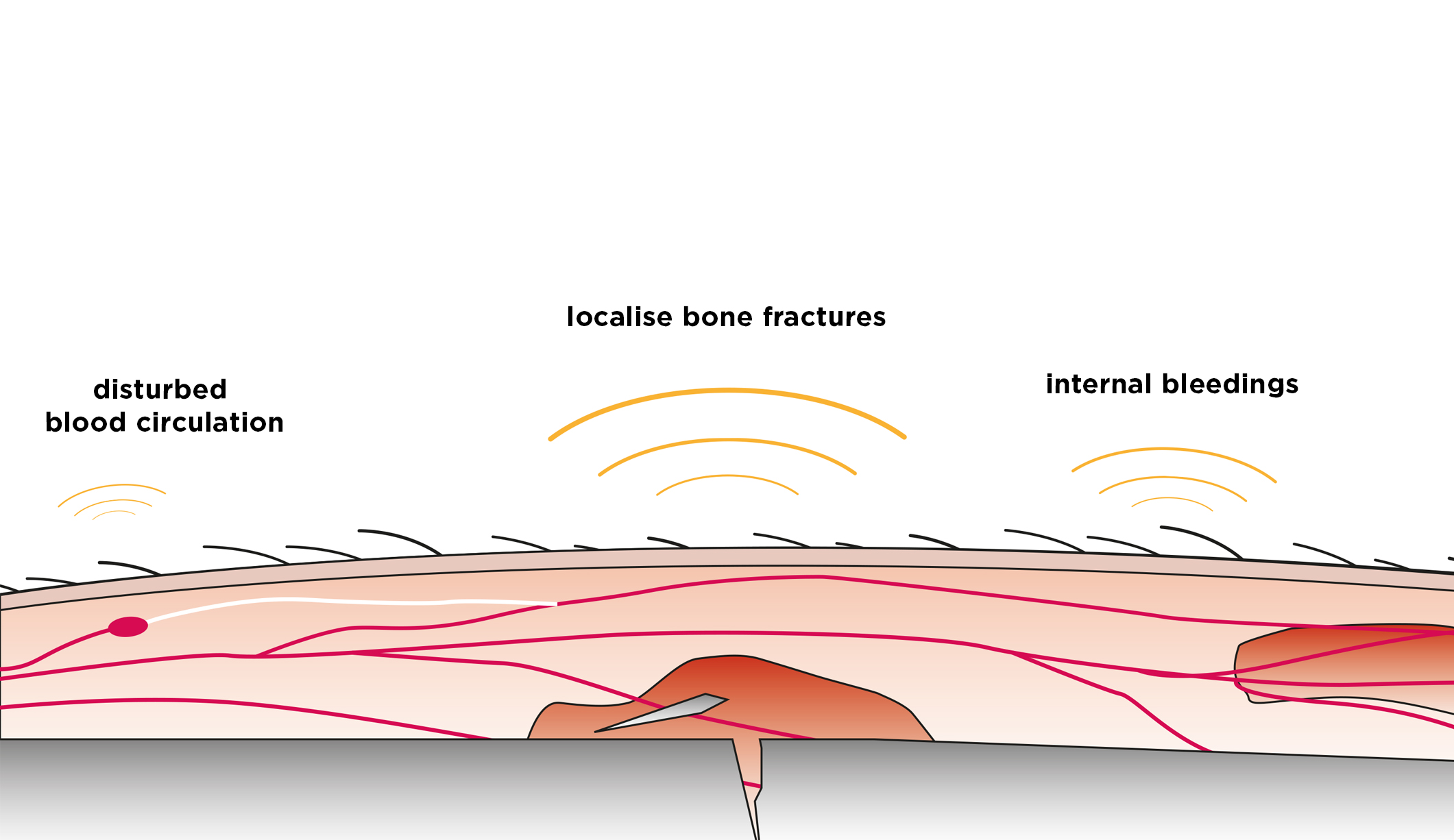 Infrared thermography, thermal imaging usually detect radiation in the long-infrared range of the electromagnetic spectrum. Since infrared radiation is emitted by all objects also the skin has different temperature patterns as a result of different blood circulations. Injuries or irregularities under the skin have an effect and can be determined via thermal imaging.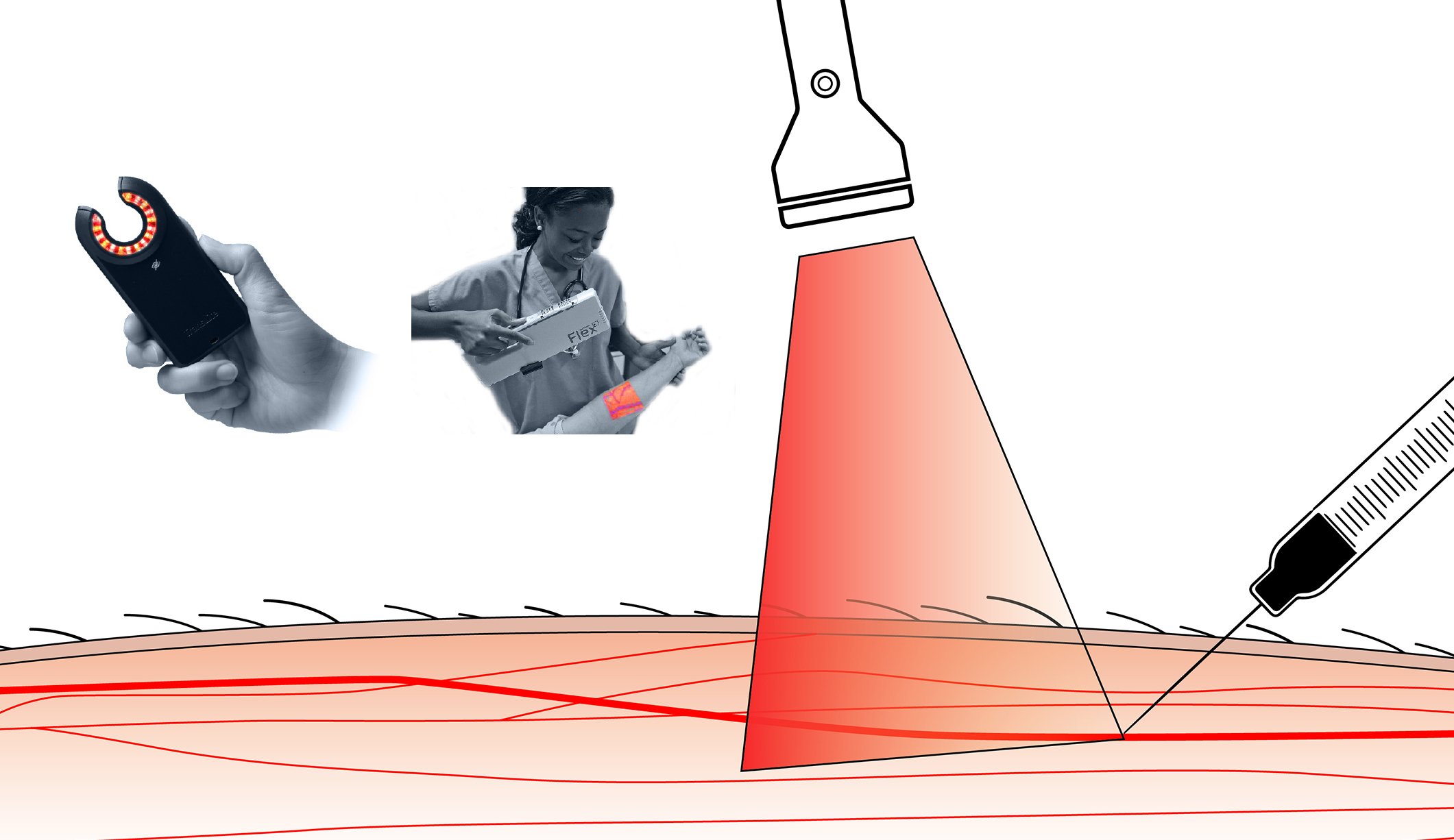 Near-infrared light can be used to increase the ability to see veins. The near-infrared light gets reflected on the veins and darkens the veins. It can penetrate the skin up to 1 cm and highlights any tissue change. This technology can help paramedics to find veins in extreme situations when the time is short, the blood pressure of the patient low and therefore they can't find any good veins to give injections.
— What can be found through an infrared camera?
The benefits of thermal imaging are simple to differentiate between other imaging techniques. It is a non-contact and non-invasive approach to find inconsistencies. The pre-diagnosis allows identifying quickly patterns on the skin. Even an amateur can interpret if there is a problem, injury or anything else. But for specialists, these patterns tell a story about the condition of the patient. It makes the invisible visible and provides valuable information.
Detection of veins | localize pain | internal bleedings | localize bone fractures | chronic inflammation | disturbed blood circulation | stroke diagnosis | overview in extreme situations | for a quick pre-diagnosis | localize infections | hypothermia patients | breast cancer detection
— Potential application areas
Several medical areas or situations could benefit from this technology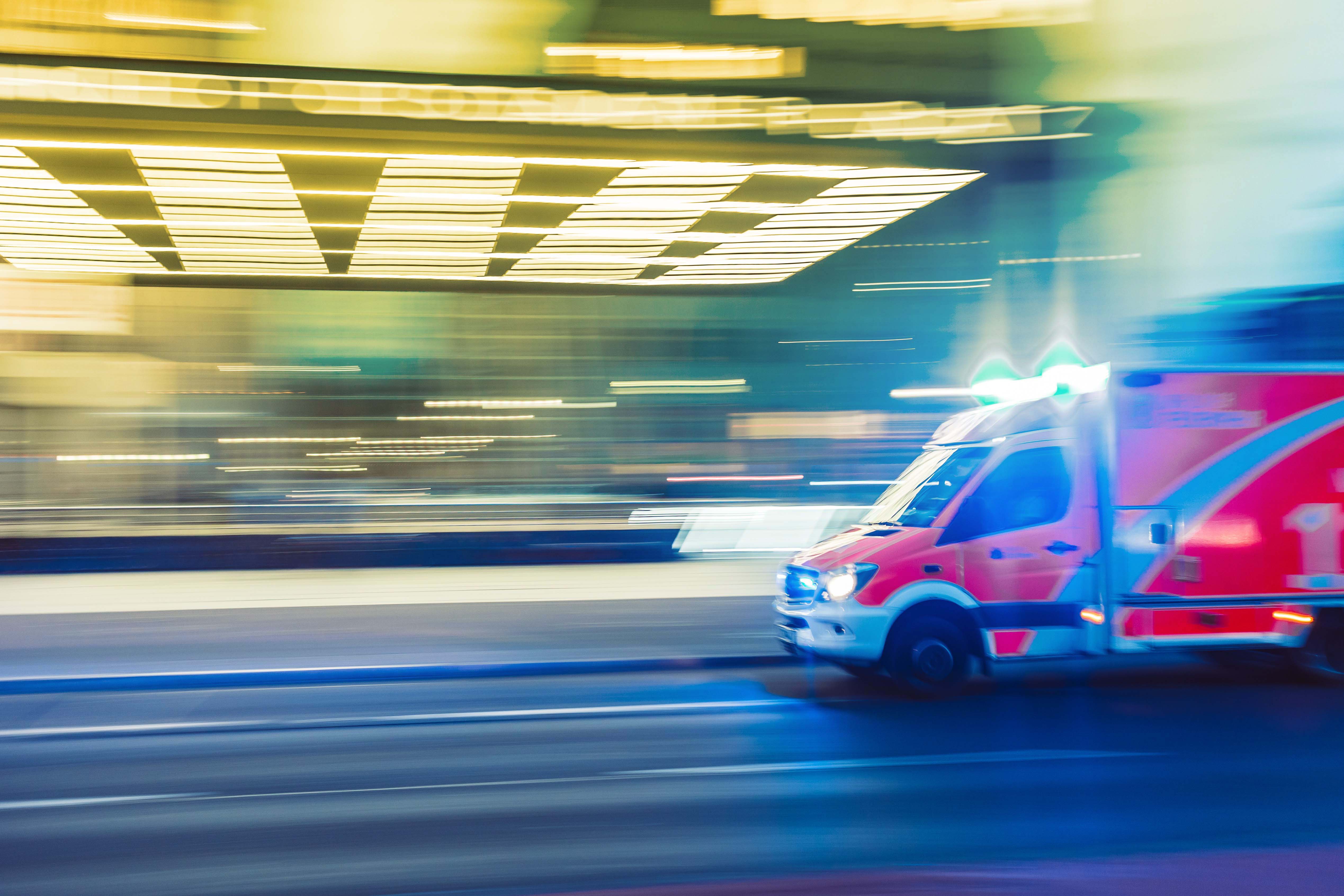 Emergency situations were
worth for further examinations
When time is short and large instruments aren´t available the need for a tool to get a quick diagnosis and overview of a patient is priceless.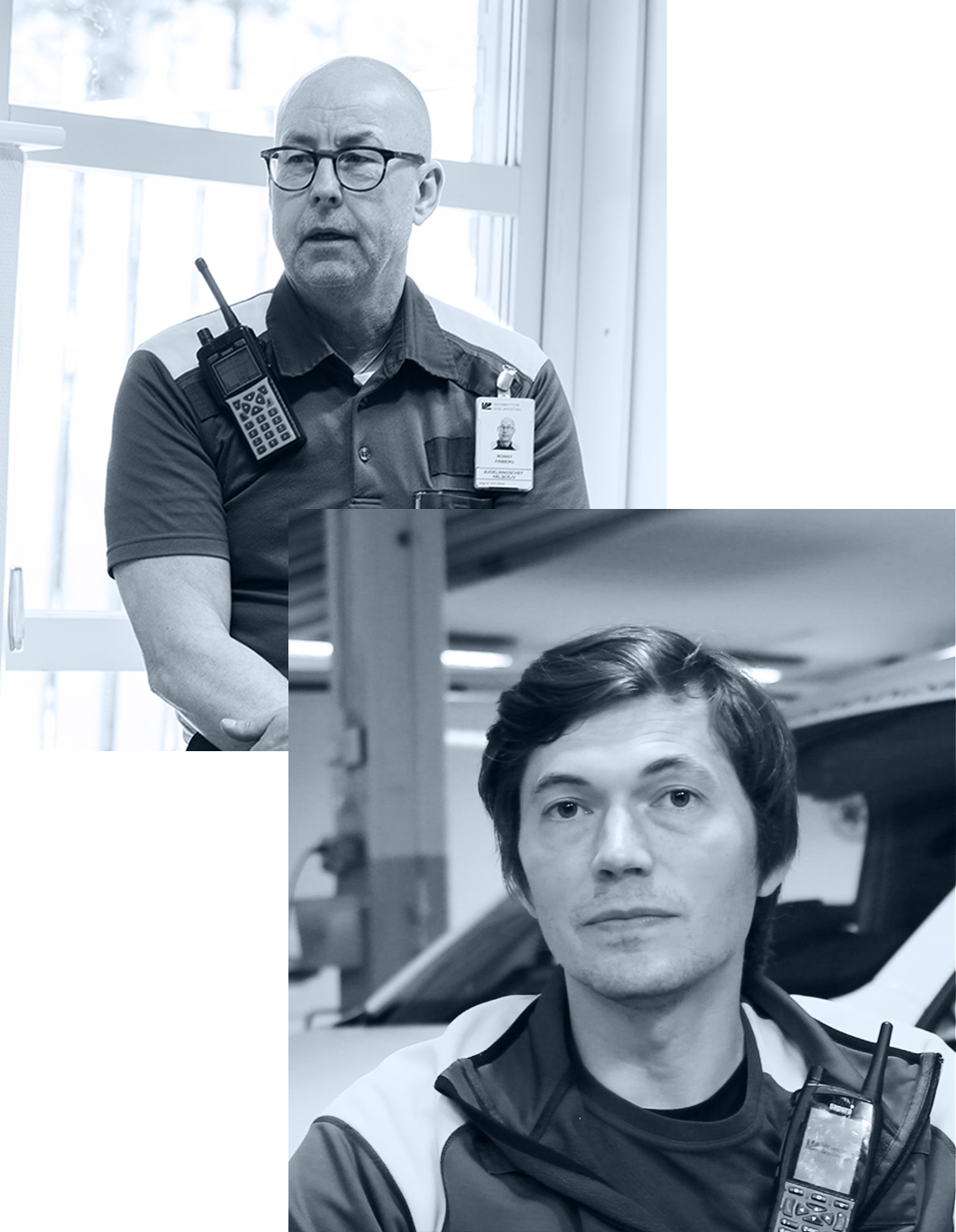 "With a life-threatening emergency, the survival of a victim often depends on professional medical help and their work experience."
Even with the tools in an ambulance today, invisible injuries like internal bleeding, a stroke diagnosis, localize bone fractures and disturbed blood circulations stay undetected. In the hospital they need a computer tomography to detect all this factors. But the time between accident site and hospital is important and decides between alive or dead.
I interviewed several paramedics and showed them how an infrared camera works and how it could support their daily life. In emergency situations, they have just a little time to get an overview of the patient and which injuries they have to treat before arriving at the hospital. Furthermore, they try to stay as short as possible at the accident scene and give the patient after the first diagnosis the needed medications.
So far the emergency doctors had to trust in their experience which invisible injuries the patient is suffering. To provide them with a tool to get a quick diagnosis and overview of a patient is a market niche. Together we defined the parameters of a new specialized device that was focused on their business.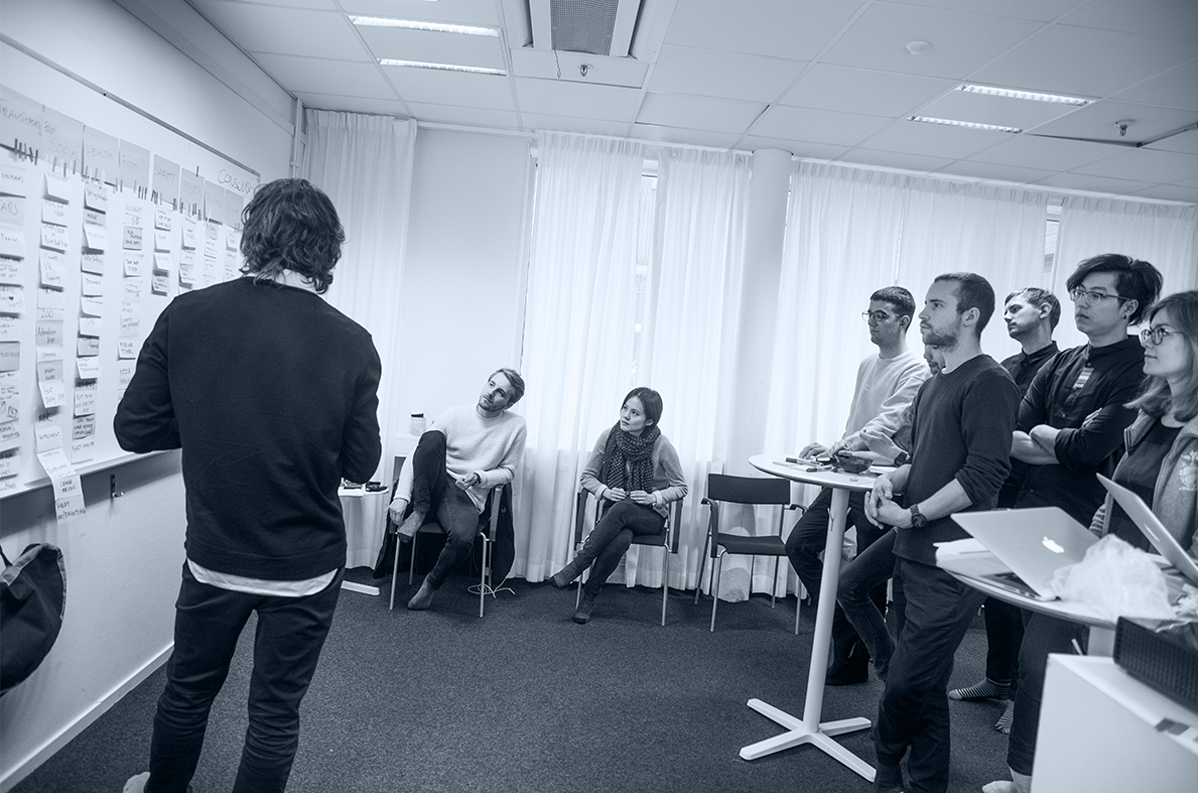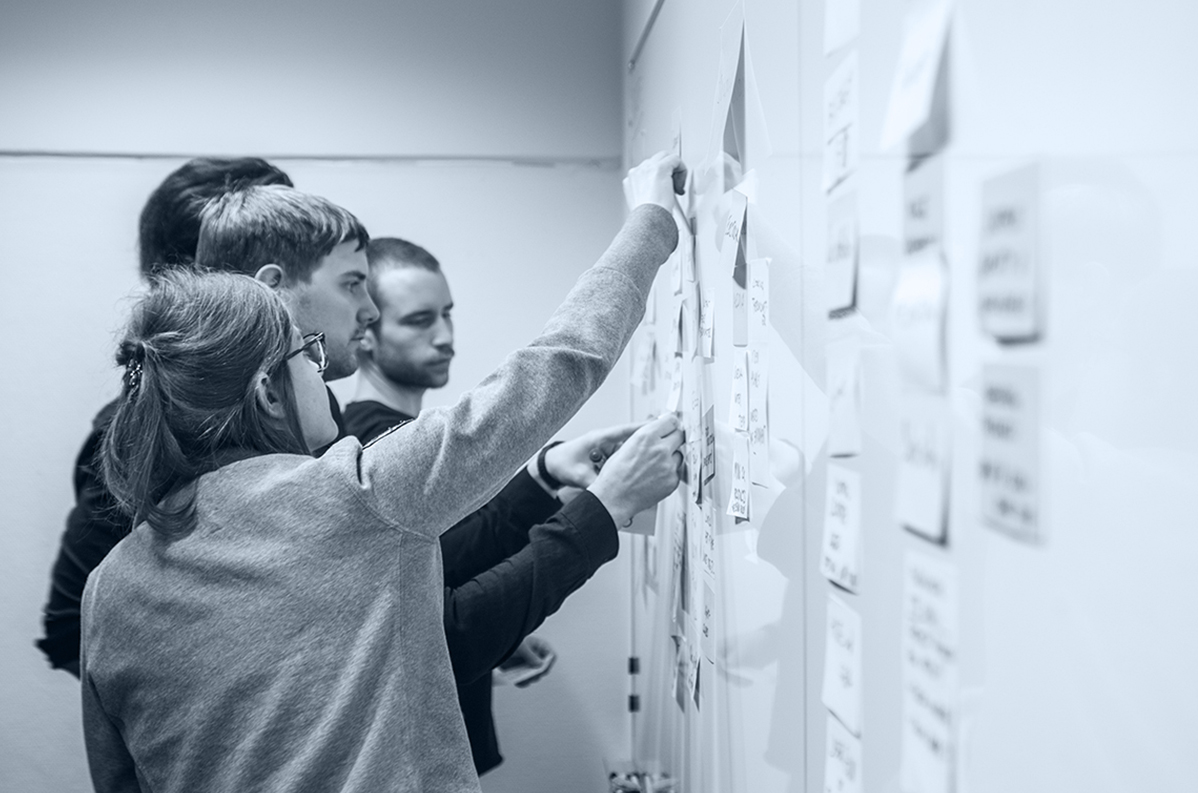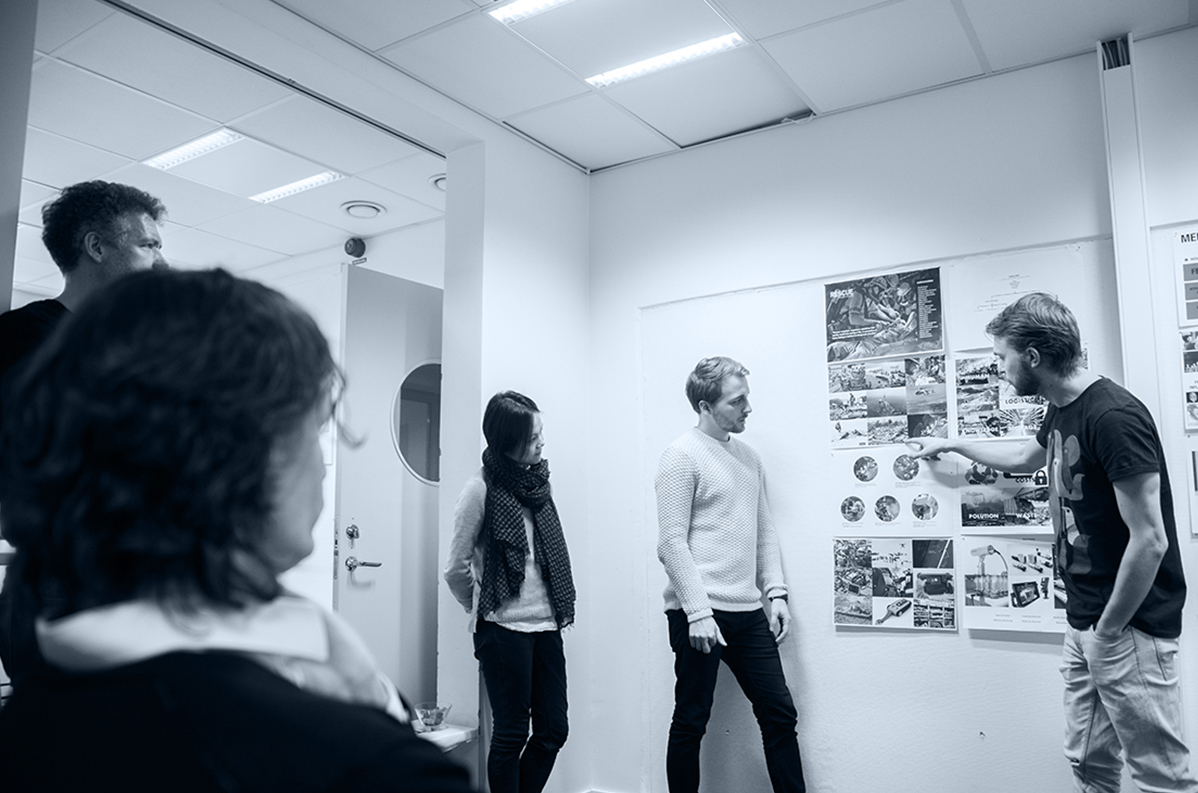 In collaboration with Flir we presented our field research outcome and ideated together about reasonable scenarios where infrared cameras could have an impact.  
— Previous medical studies for emergency situations
Professional examinations with infrared cameras have shown amazing results that can be detected with this invasive technology. So far the emergency doctors had to trust in their experience which invisible injuries the patient is suffering. But the medical study on the right shows trustful results which make this technology useful in many emergency situations. 
How do professionals react if I confront them with the medical study? 
– The outcome was astonishing because some of them have never heard or knew about this promising technology. But all of them mentioned a customized tool for their application scenarios could have a serious impact in the future of accident treatments.    
Paramedic
"A flexible use in different situations is important. A combination of vein detection and thermal imaging in a small device would be perfect"
Pär Lindgren, Umeå
Paramedic
"The product has to be easy to clean and waterproof. The black color is not useful because we can´t see dirt and blood on the device."
Pär Lindgren, Umeå
Paramedic
"Only a picture that shows the problem, too much information is not appreciated. Is it life-threatening or not? Can the hospital prepare something?"
Johan Anderbom, Umeå
Paramedic
"We really need a device to find veins and free hands to place the drain tube because there are only two paramedics and a lot of stuff to do in a short time."
Johan Anderbom, Umeå
Emergency doctor
"Is it a blood disorder or internal bleeding, that´s important to know for the treatment with medications. Thermography as decision support would be helpful."
Dr. Caroline Grupp, Stuttgart
Emergency doctor
"There is a need for paramedics to get a better and faster diagnosis (ultrasonic device, iPad…)" But just a few products are adapted to their needs and requirements.
Dr. Caroline Grupp, Stuttgart
Paramedic trainee
"To take pictures from the patient and the accident is helpful for the documentation. To be able to share also information, images with the hospital easily would be a game-changer."
Maren Balle, Stuttgart
Paramedic trainee
"Easy to carry, quick availability & simple, understandable interaction. In extreme situations the pressure is high and the tool should be as supportive as possible"
Maren Balle, Stuttgart

Time is the biggest enemy of paramedics
Any device, technology or idea to speed up the workflow and reduce stressful extreme situations are appreciated.  

Take pictures
For documentation or information exchange we take sometimes pictures with our private cellphone. But there isn´t a software or system to incorporate this information quickly and safely.

Vein detection
A portable device to detect veins in extreme situations would be very helpful. But they need both hands to give the injections, therefore, the tool must be fixed somewhere on the patient's body.

Early hospital preparation
On the way, we inform the hospital with valuable information about the patient. It would be great if we could share earlier und with images more details. 

Flir has a broad variety of products on the market for specific applications. The products are ranging from commercial equipment to consumer electronics. Even though none of them on the market are specialized for the needs of paramedics. 
For the healthcare segment, it would be strategically effective to broaden their general design language to fit the appropriate application area. It should not only be aesthetically different but also the requirements on the product must change. 


On the basis of the interviews and their needs and wishes, I created a common core language to describe the evolution of the existing Flir design guideline.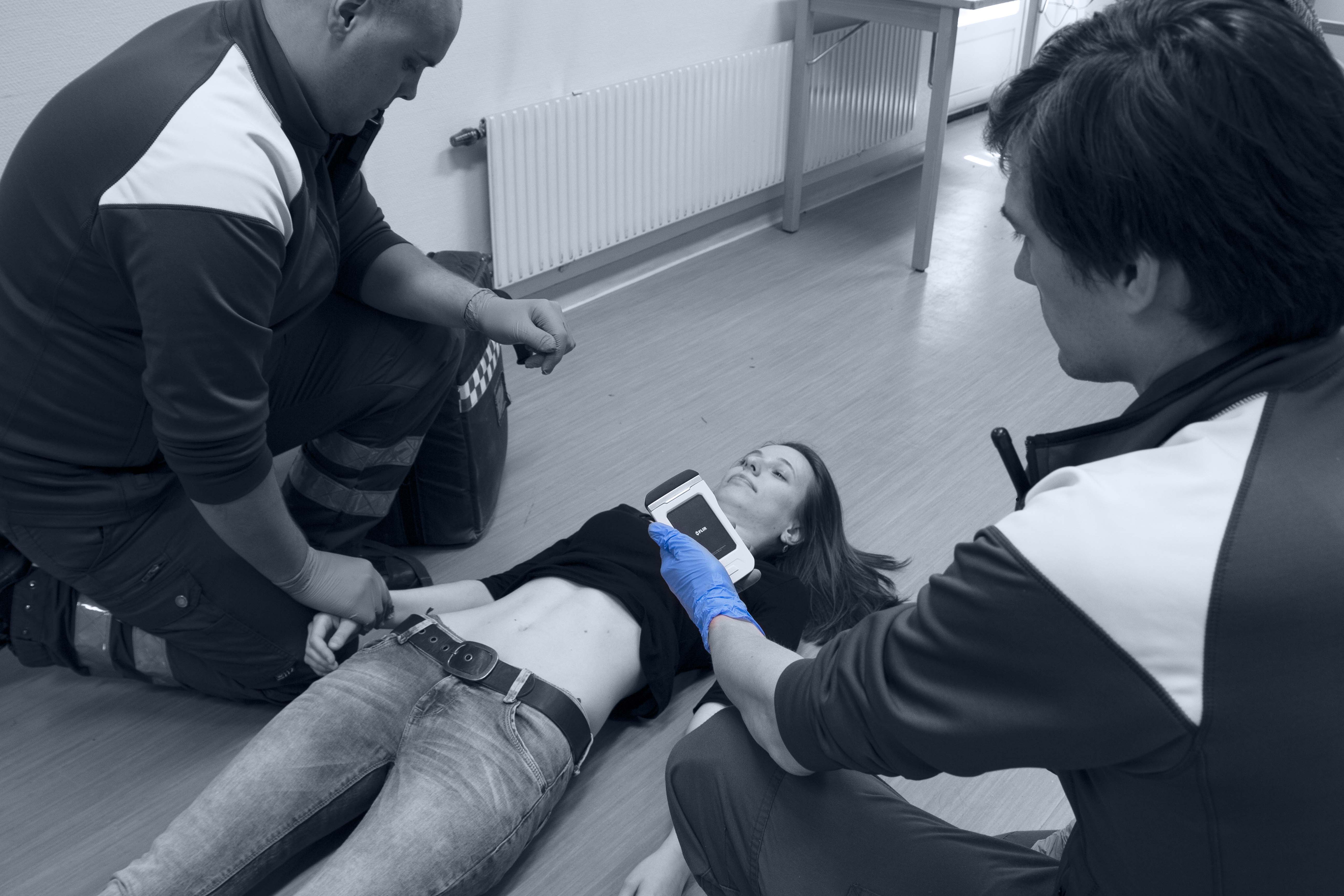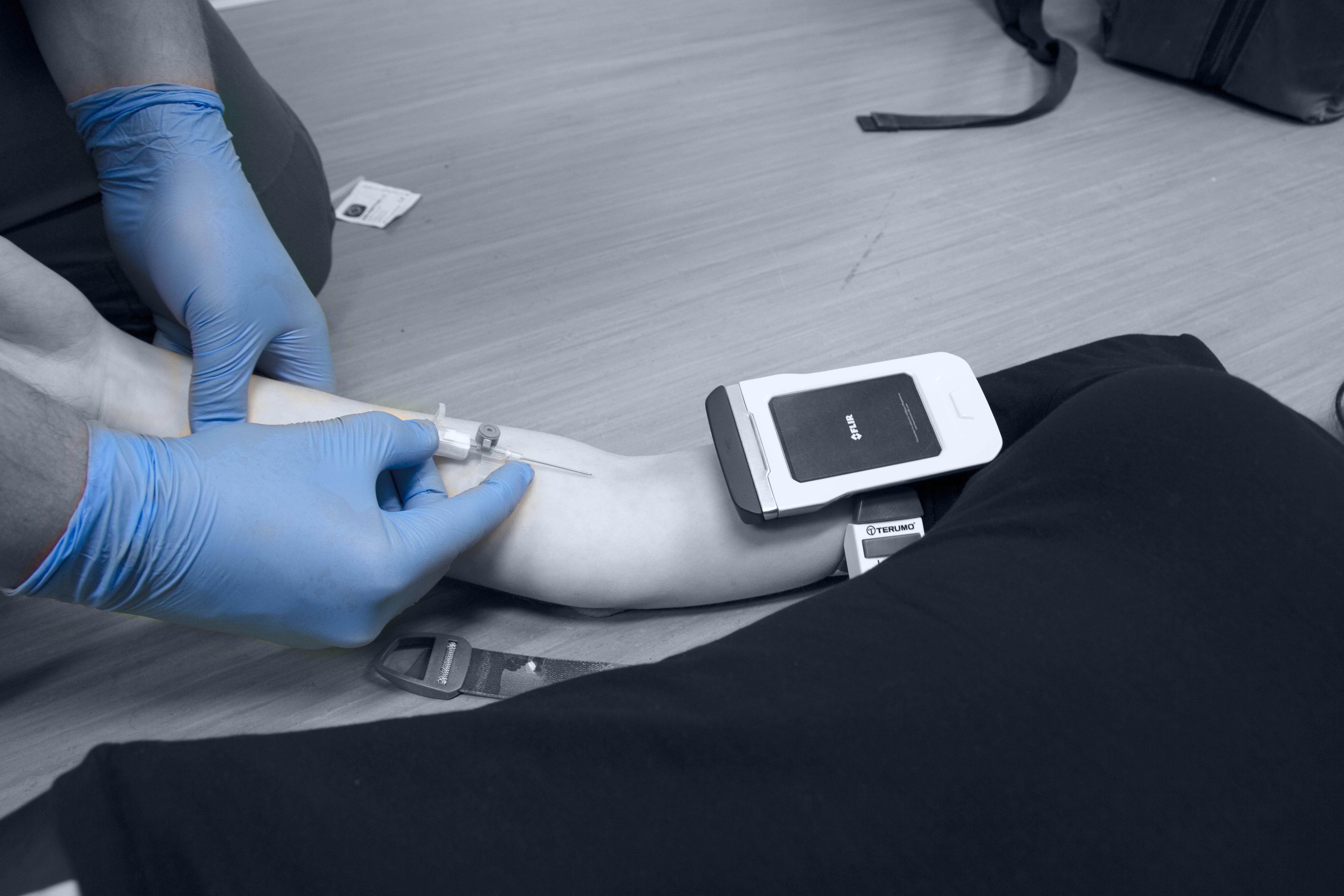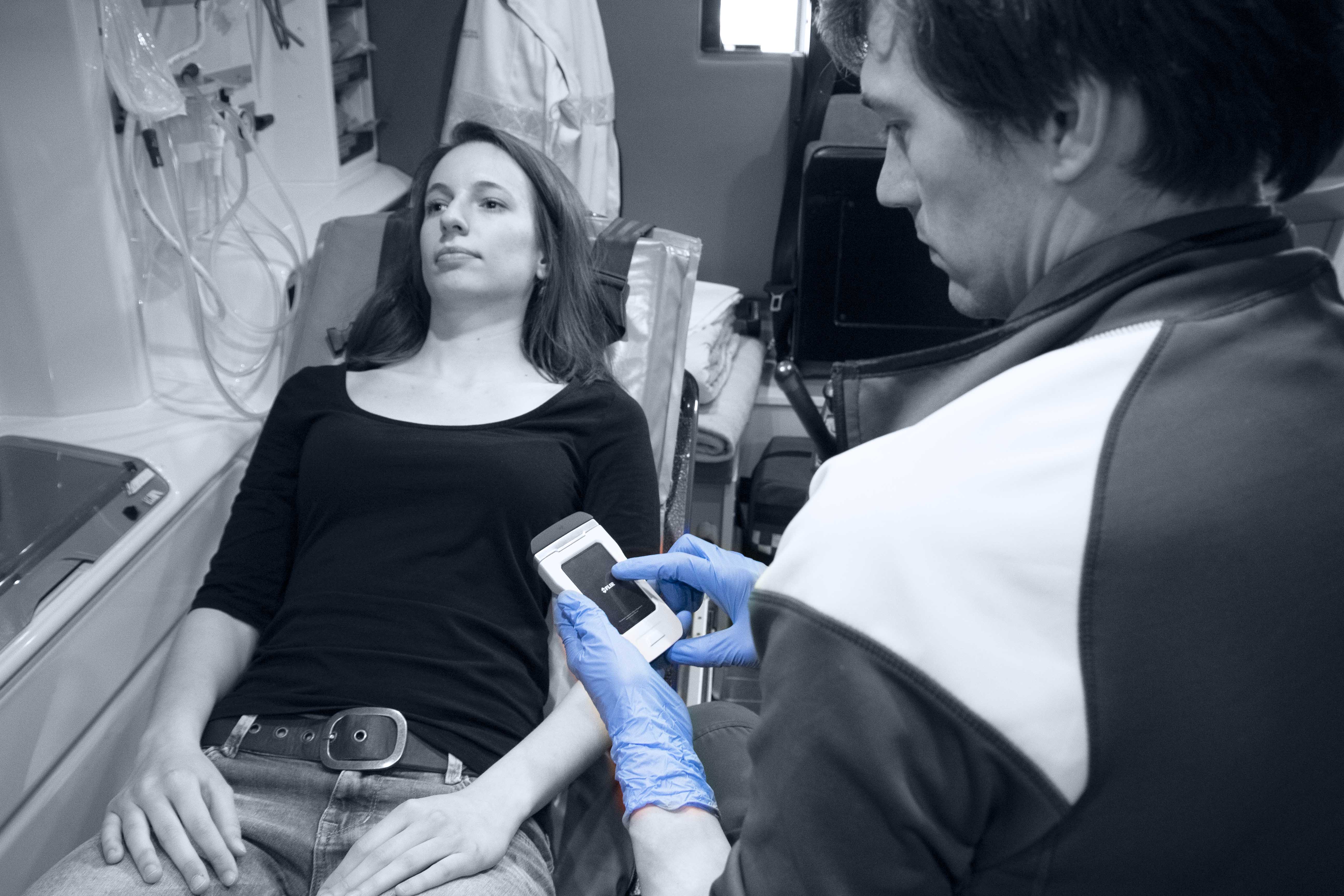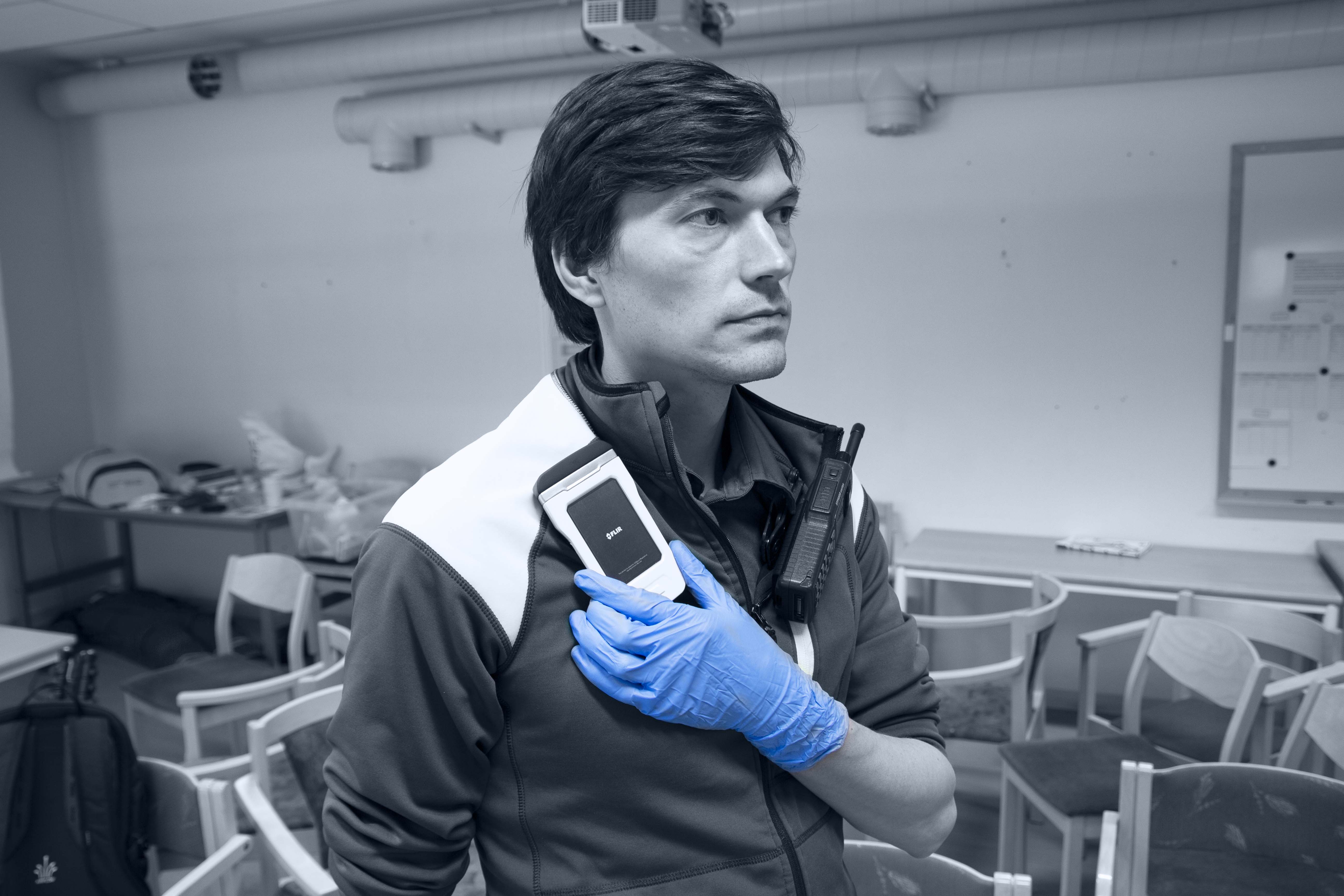 In close collaboration with the paramedics from Umeå I tested and validated mock-ups in various role-plays. The goal was to understand the specific product and digital interaction needs in extreme situations. 
On top are storyboard images of the final concept which describes some of the interaction steps a paramedic would use this handy device. It was also useful for the production of the final movie to explain the story. 
— How AI technology could be useful in this scenario
A special course for the user will be necessary to understand how to use and read the infrared imaging information. But AI could be supportive in the future. A computer could calculate and decode the image in seconds and provide the user only with the needed information. The result can then be sent to the hospital to provide them early with information about patient injuries. They can overview the image on a bigger screen and decide which areas are important to scan through a computer tomography and prepare the surgery room. With the base of the AI outcome, the hospital can decide time efficiently the next steps in the future.

For Flir the medical area would be a new promising market segment. To gain trust and build a solid foundation they need to introduce a high-quality product first. Marketing campaigns are necessary to spread information about the possibilities and limits of their technology. 
If a competitor would follow to enter the market with their own medical thermography product it would probably start to place a lower-cost alternative on the market to gain a market share. A strategic step is to bring a second generation on the market which is placed right under the competitor product range to reach more valuable customers.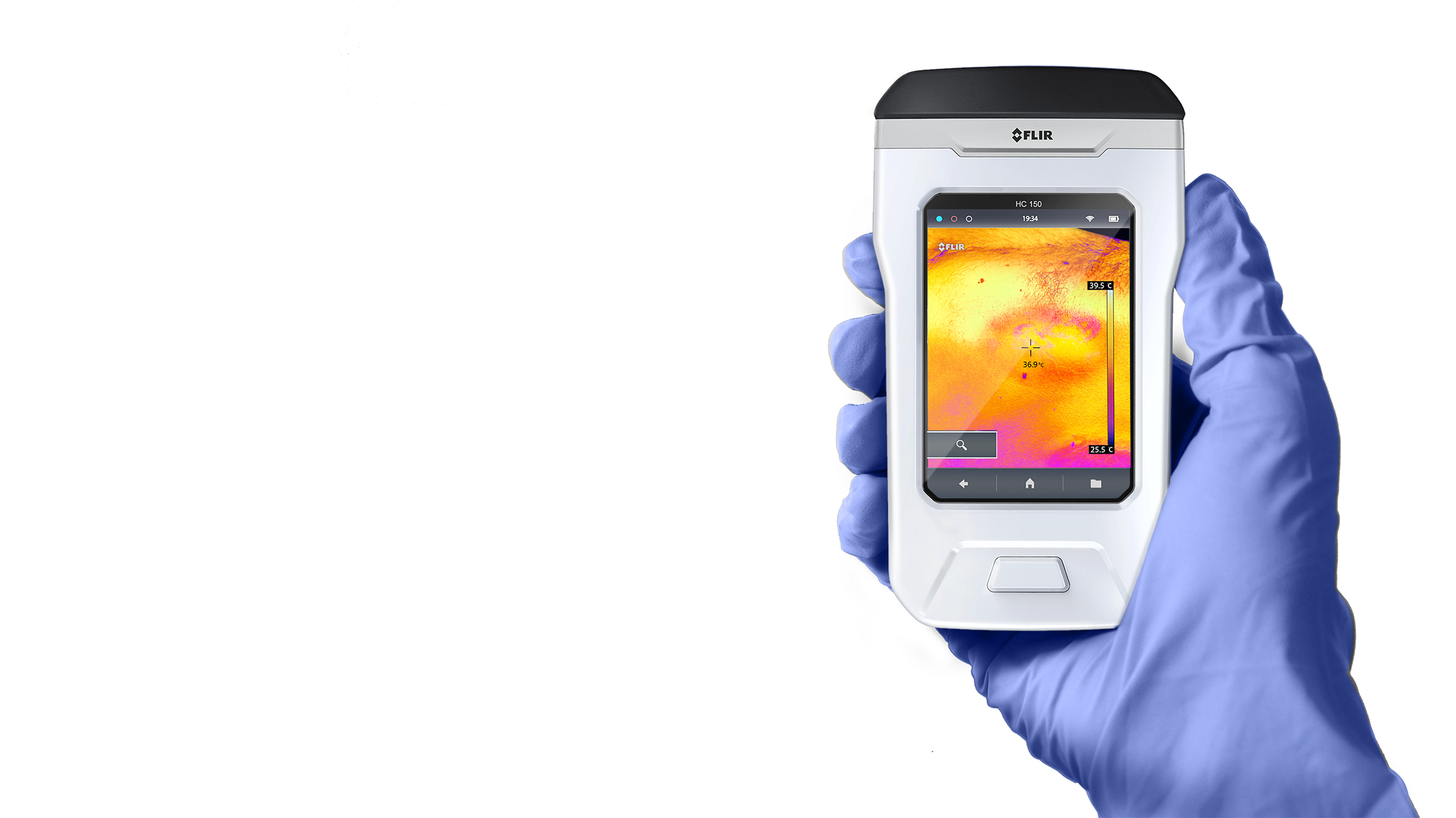 Do you want to review the result again?