Advanced powergrid maintenance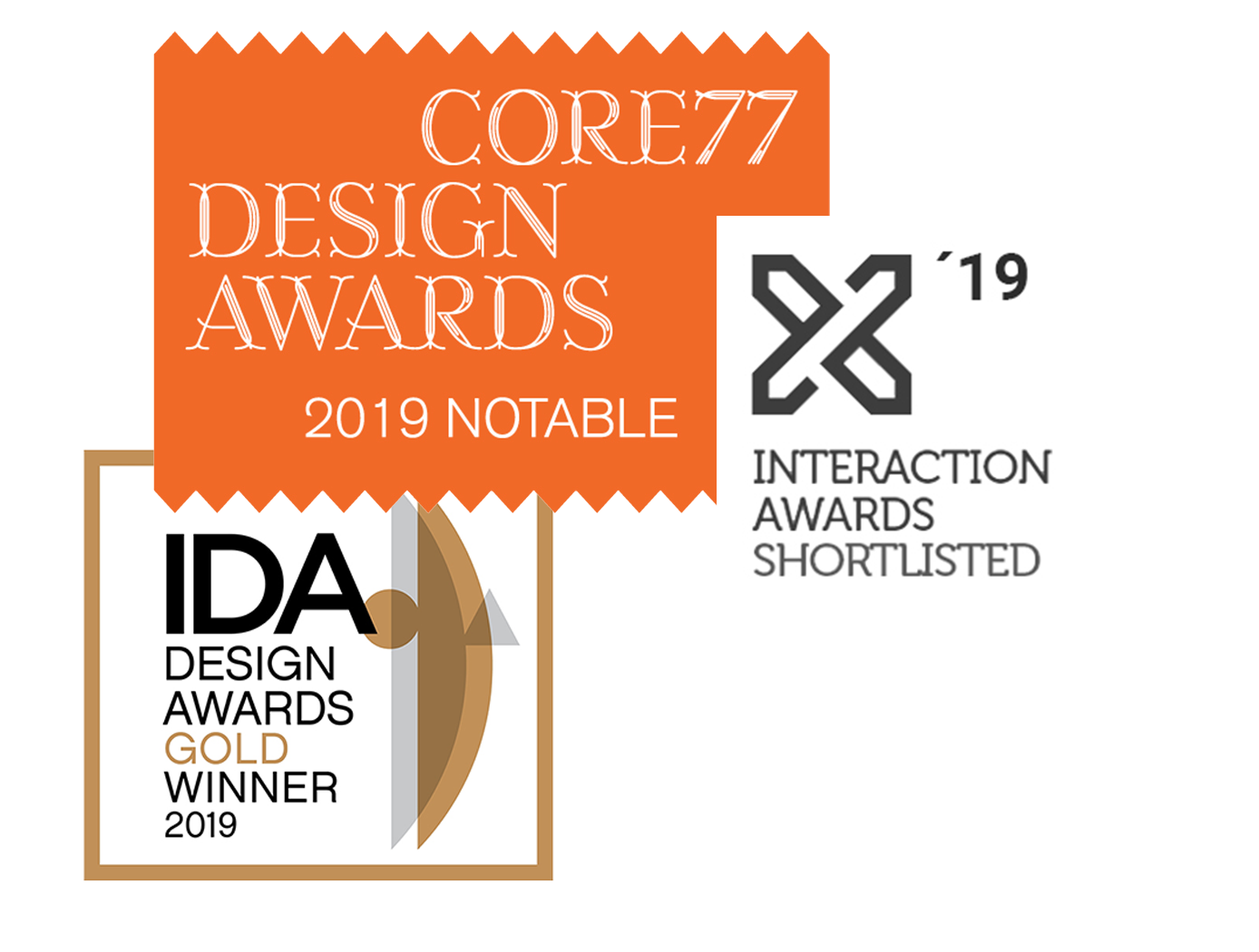 Alexander Abele
Maximilian Brück

In collaboration with
Umeå Energi

Umeå Institute of Design
Sweden

The energy sector is facing enormous challenges in the future
The Chroma system modernizes the energy business to monitor grid infrastructures more frequently to provide an accurate diagnosis and a visualized prognosis without increasing the labor costs.
The worldwide demand for energy will triple until 2050. Power Providers all over the world are facing major problems within the next years: The overall increasing energy consumption demands the constant expansion of the electrical grids. At the same time, older parts of the infrastructures suffer from aging. This two-front war is resource consuming and demands for more efficient inspection and maintenance processes.
The conservative business lacks behind in adapting to modern processes and digital technology, which could help to optimize processes. As a result, Umea Energi asked us to conceptualize and design visionary solutions for the next generation of smart products to fulfill their daily tasks. Through our field research, we identified the process of transformer maintenance as the design opportunity with the highest relevance.

Chroma is our vision of how applied human-centered design could have a direct positive impact on our client's business while improving the everyday work life of their employees. The holistic system simplifies maintenance procedures with a new hardware system and a digital platform which enables the possibility for more frequent inspections to gain an accurate diagnosis and a visualized prognosis without increasing the labor costs to reduce the economic pressure.
Let me explain you the story

>> Go to 1:45 min. to see the product in action!

Do more with less
Chroma helps power providers to maintain grid equipment more efficiently due to a redesign and optimized process.

Improved data management
Paperwork and manual data transcription cause slow and error-prone data processing. Chroma helps to file data effortlessly.

Test in higher frequency
An optimized workflow allows running system condition tests more frequently. Early risk detection prevents high reparation costs.

Fewer mistakes & reliable results
Outdated equipment is leading to mistakes, affecting the accuracy of the problem diagnosis & prognosis. Chroma ensures qualitative results.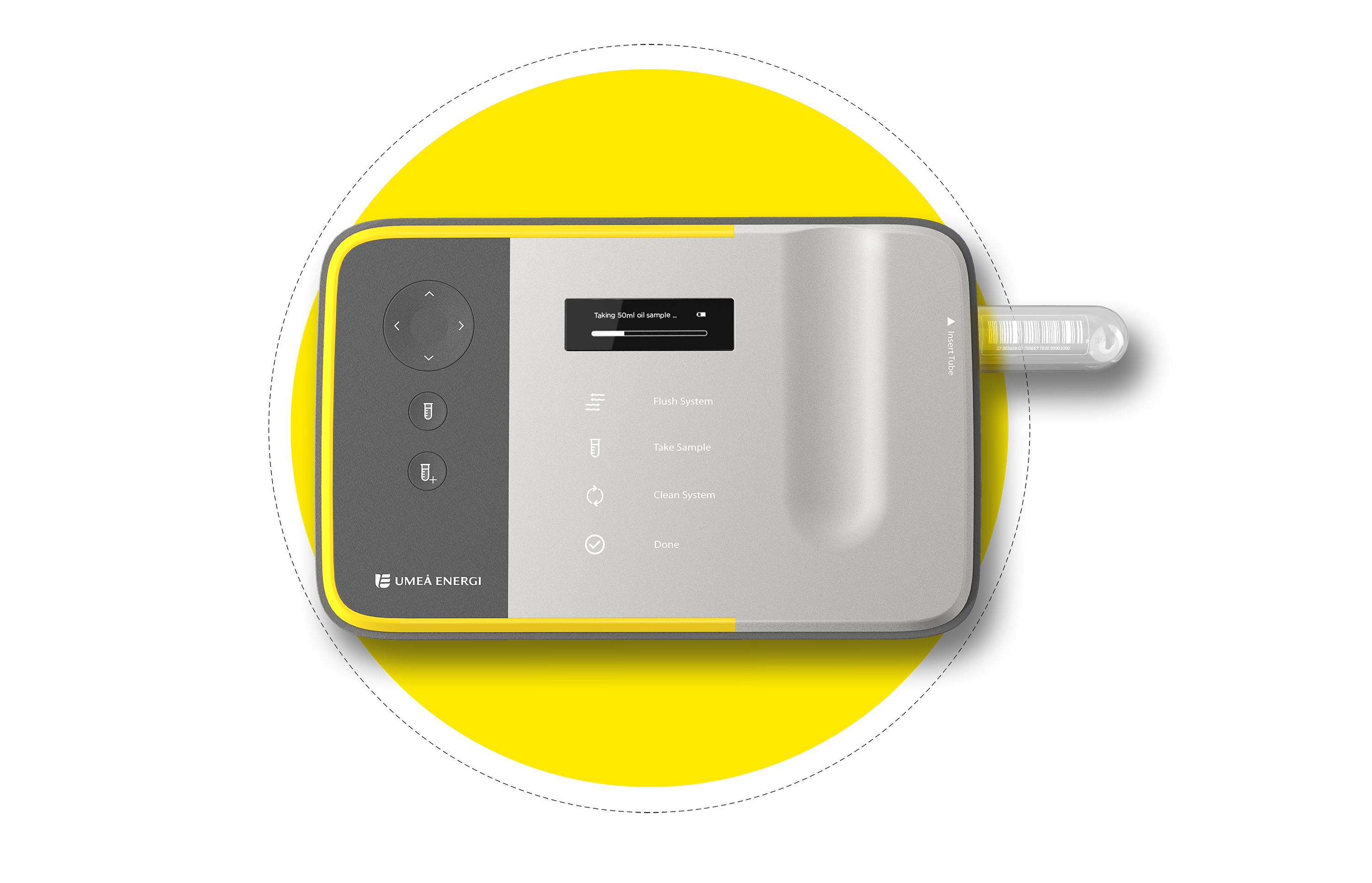 Oil Extractor
The semi-automatic handheld, helps engineers not only to take multiple oil samples much faster but also with less risk of contamination and without any environmental impact.
Much faster than currently used system
Requires no cleaning
Reduced risk for sample contamination
No spillage or waste of oil due to a closed peristaltic pump system
Desktop Analyzer
The CHROMA DGA Desktop analyzer,
analyses fully automatically, the gas chemistry of multiple oil samples in a row. Due to the use of CHROMA disposable sample tubes, no cleaning is needed in between.
Analyses up to 4 samples in a row
Requires no cleaning at all
Controlled via desktop application
Results automatically get stored and filed in the CHROMA Data Cloud.
Disposable & Recyclable Sample Tubes
The use of prefabricated, sterile glass tubes filled with Argon gas, speed up the maintenance process significantly. Individual barcodes ensure correct sample filing.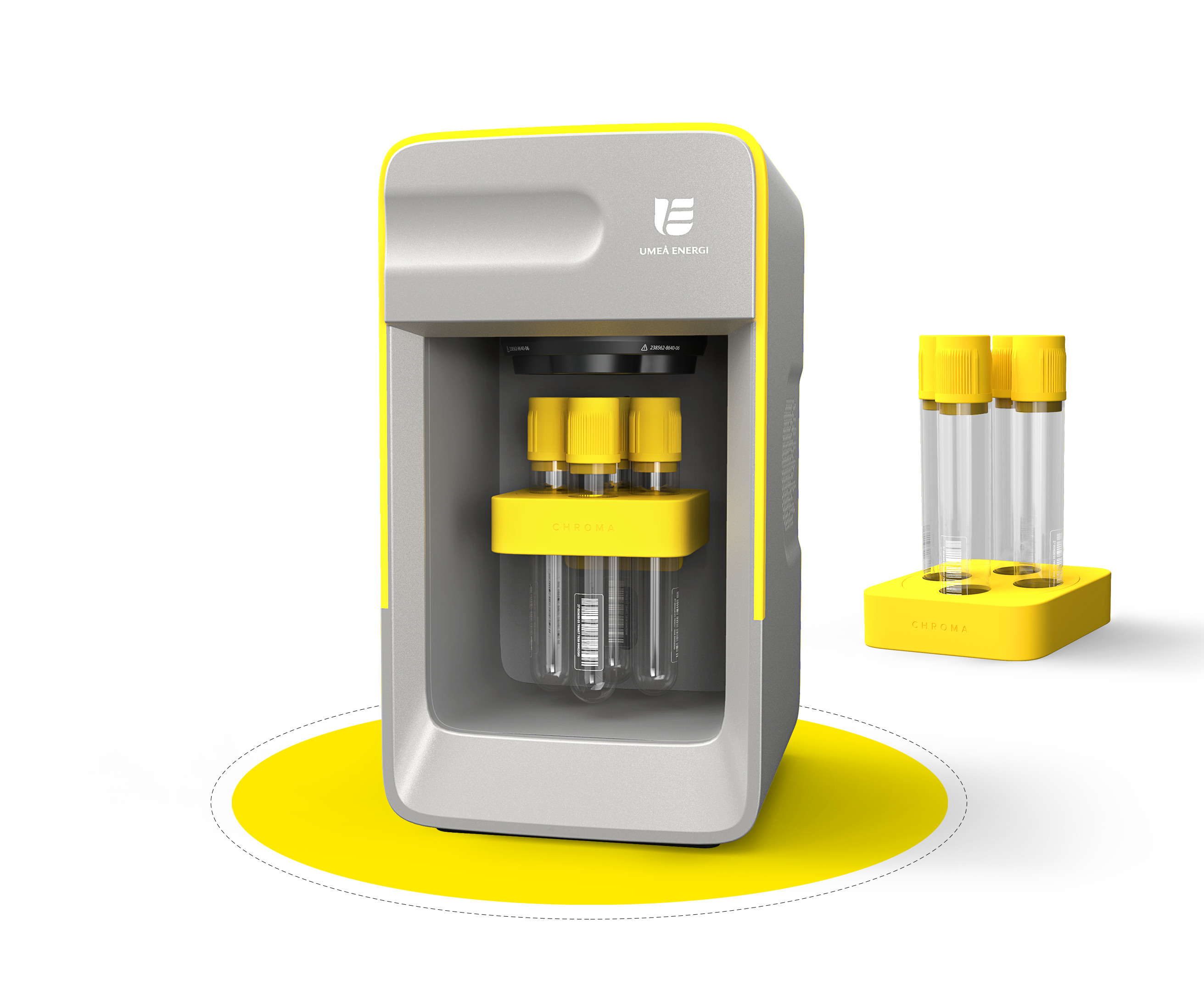 » Seamless physical & digital interaction «
Mobile & Desktop Application
CHROMA comes with a digital backbone: Across multiple devices, CHROMA Cloud supports maintenance engineers infield as well as in the office, to allow effortless data handling and efficient use of personnel.
Interactive Guides for Inspections
No Paper. No manual data transcription
Tools for communication & staff coordination
Centralized data hub with advanced tools for effective problem diagnosis & prognosis
— Chroma System in action
— Design Details Analyzer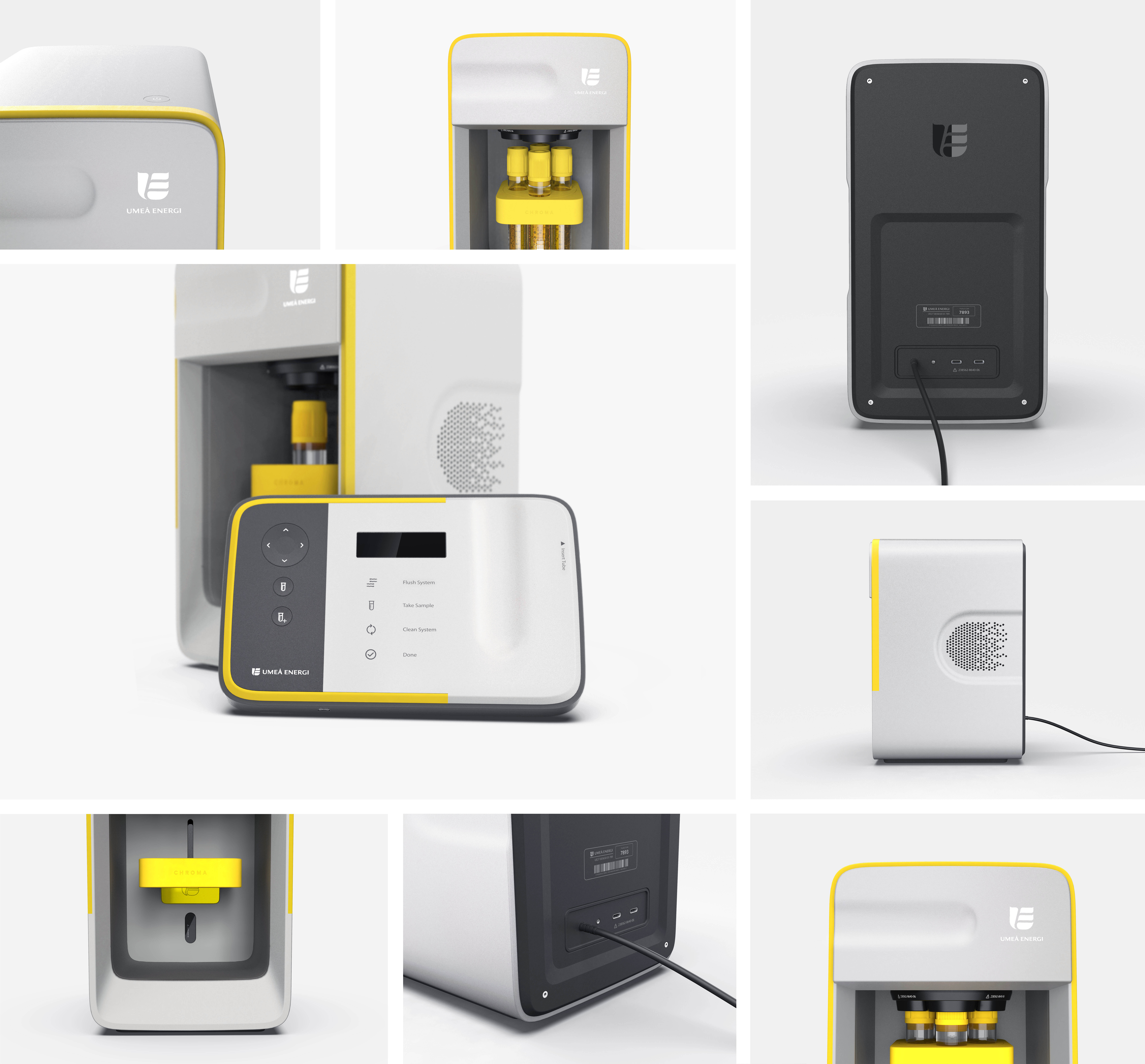 — Design Details Handheld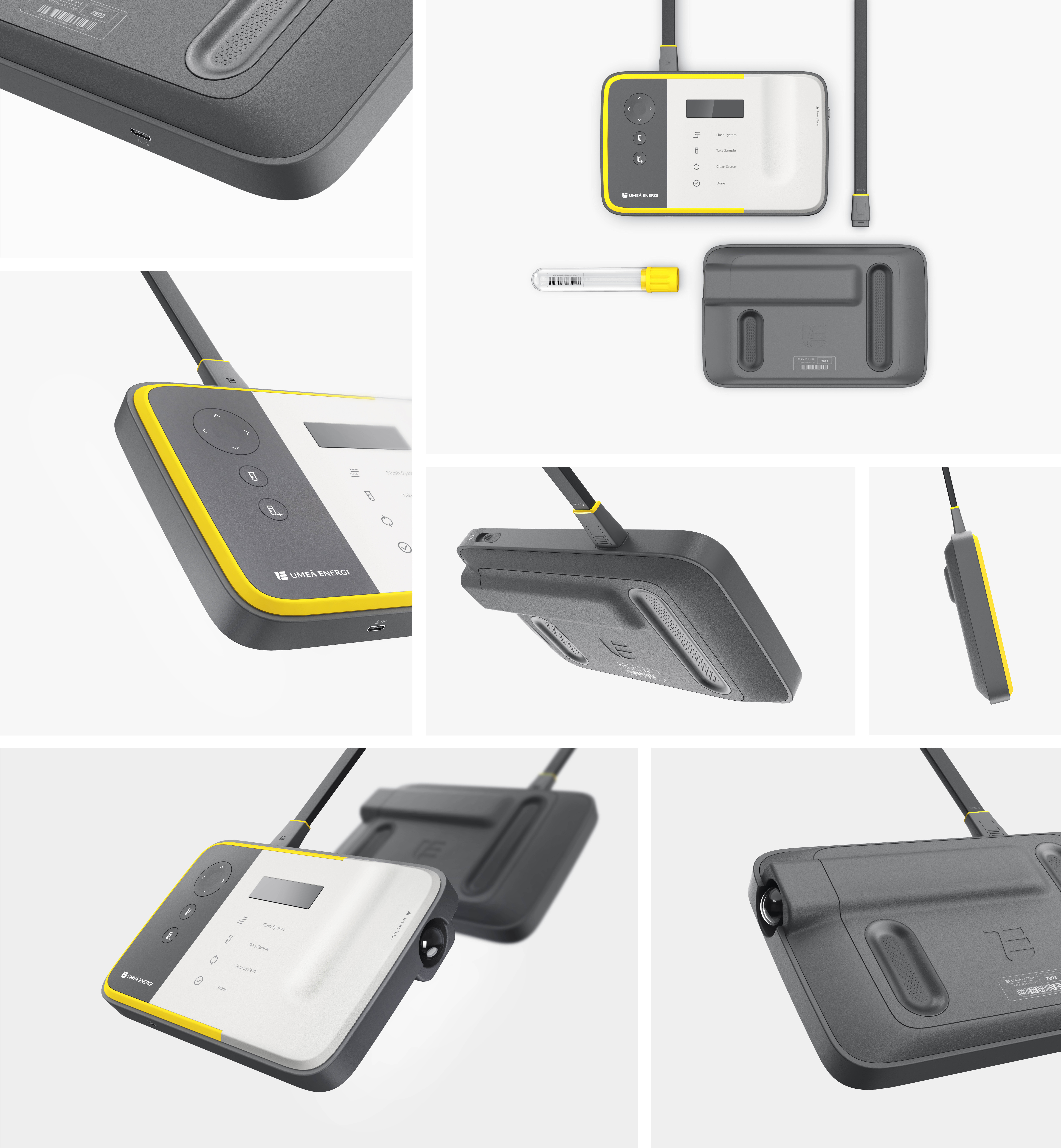 Do you want to get more information?

CHROMA
Advanced powergrid maintenance
H150
Thermographic camera for paramedics
Acculan
Next generation of a surgical power tool
Ascend
Construction site 4.0  Robotics